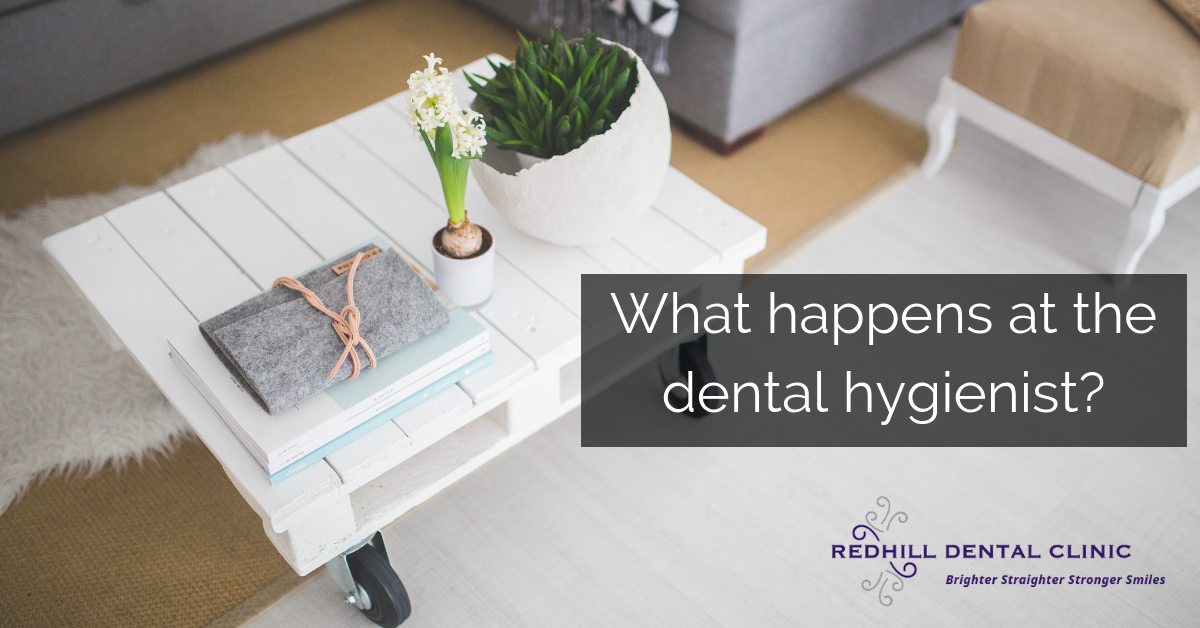 So often we hear people ask about hygienist, wondering if it's really necessary to visit so often, what happens when they do or what would happen if they don't. We thought it would be a good idea to summarise everything in a single blog post.
What does the dentist/hygienist do at a teeth cleaning?
A tooth cleaning appointment  is far more then just cleaning your teeth, your dentist or hygienist will also be looking at:
Where plaque or stain has gathered on your teeth, and this can give an indication of your tooth brushing and cleaning habits.
Early warning signs of oral cancer.
Problems with the way the teeth wear which could indicate problems with the muscles of your head, face and neck.
Early warning signs of gum disease and other dental diseases.
Practically what will happen at the hygiene appointment is as follows:
Each tooth will be assessed for its cleanliness, this is typically mark on the scale BPE (Basic periodontal examination), This rates quadrants in your mouth (upper left, right, lower left, lower right) on a scale from 0-4. Zero is the best and 4 is the worst.
This BPE chart will then be compared to your previous appointment to see how you are progressing.
An ultrasonic scaling will then be undertaken to remove hardened plaque around each tooth.
In between the teeth and instrument will then be used to scrape away excess plaque.
This scraping may need to continue below the gum level if the plaque buildup is particularly bad.
The space and cleaning ability will then be checked between each tooth with dental floss.
Each tooth will then be polished to ensure the minimum amount of plaque adheres to it.
You will then be given any further oral health advice to prevent further buildup of plaque and tartar.
How long should a typical dental cleaning to take?
A typical dental hygiene/dental cleaning appointment will take approximately 40 min if it is done properly and the above protocol is adhered to. It simply isn't possible to do a full dental hygiene treatment in 10 min!
How painful is dental cleaning?
Scaling and polishing can sometimes be a little uncomfortable, particularly as it moves down towards the gum margin. It is quite normal for a small amount of bleeding to occur during the treatment however most people describe this as uncomfortable rather than painful.
If your hygienist is removing plaque below the gum line then this could be more painful, you will then be given a local anaesthetic to ensure it is completely pain-free.
Does repeated scaling damage our teeth?
Your teeth are extremely hard, in fact the dental enamel is the hardest substance in human body. Repeated scaling would only damage your teeth if it was done every day, typically you would only see a dental hygienist for professional cleaning twice per year meaning that dental scaling when it's done by professionals does not damage your teeth.
Can visits to dental hygienists damage gums?
Visits to the dental hygienist would not damage or gums because they will be working to extremely high standards following extensive training. A hygienist will also be registered with the General Dental Council (GDC) who monitor and regulate the dental health profession. You may find that after a routine hygiene appointment that your gums are more sensitive and have bled during the treatment, this is quite normal and they will heal very quickly.
If your teeth be regularly during cleaning then this is an indicator that you should see a hygienist.
However, if you prod around with an instrument in your own mouth during brushing and flossing and cause your teeth to be then this could damage your gums.
Is it necessary to have a hygienist for your teeth?
We believe that yes, it is necessary to have a hygienist for your teeth. Even if you have any exemplary dental care plan at home and look after your teeth and gums exceptionally well, you will find that small amounts of tartar will build up between your teeth. This is where bacteria lurk and where dental decay and disease can begin, only a hygienist will be able to remove this for you.
Why is is teeth cleaning so painful?
Cleaning your teeth at home should not be painful, if it is the we recommend visiting your dental surgery to see a member of the dental team as soon as possible. Professional teeth cleaning can be uncomfortable if there is tartar on your teeth below the gum line. Unfortunately this tartar has to be physically removed and the removal process can be uncomfortable. If you find that the teeth cleaning really is extremely painful then let your hygienist know as they may then be able to give you an anaesthetic.
How did people maintain dental hygiene prior to toothpaste?
Prior to having toothpaste people would have maintained their oral hygiene using a wide range of natural ingredients and techniques. Their diet would also have been such that they needed to chew more fibrous food, this would have helped to keep the teeth clean. However, prior to toothpaste the incidence of tooth decay was much higher. You should make sure that your toothpaste contains fluoride, the fluoride helps with the mineralisation of the enamel of your teeth, keeping it hard and able to resist the acid attack from our modern (and rather high sugar content) diet.
Is mouthwash really necessary for good dental hygiene?
It's a good idea to use mouthwash after every meal. Mouthwash can help to dislodge food stuck in between your teeth, it also contains a low amount of fluoride which means that your teeth will get a small fluoride update throughout the day.
However, we do not recommend using mouthwash directly after cleaning your teeth. Mouthwash typically has less fluoride than toothpaste, so if you use mouthwash after brushing then you will reduce the amount of fluoride in contact with your teeth and therefore your teeth could be more prone to decay.