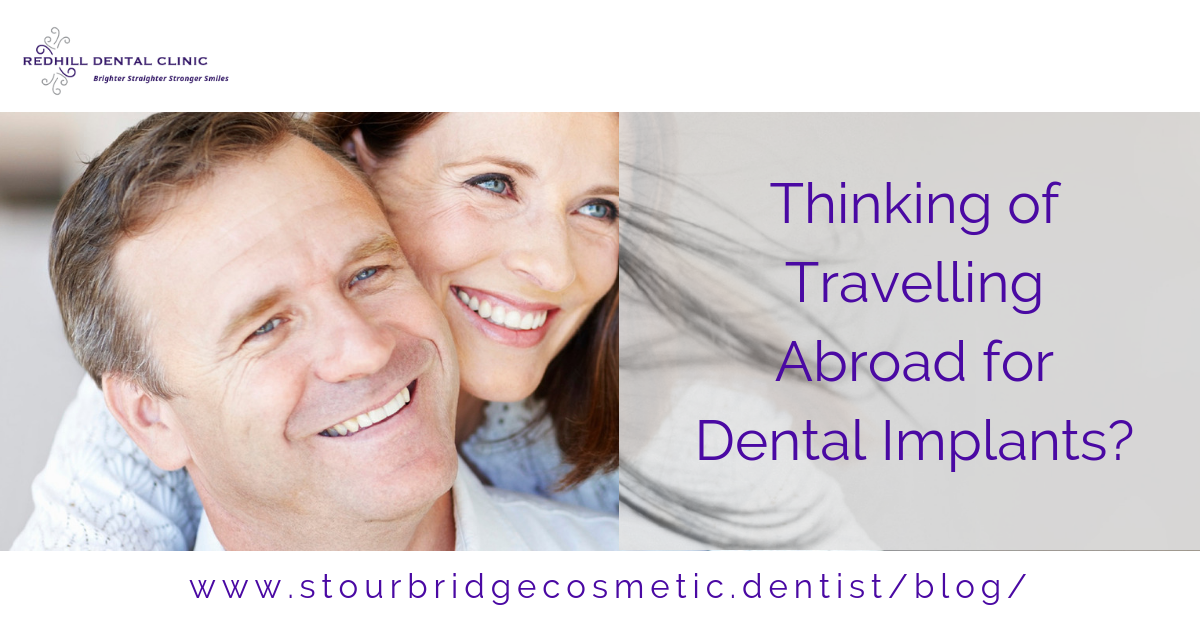 With the attractive price that is often promoted by overseas dental practices it's no wonder many people are tempted to travel abroad for dental implants and other forms of treatment. However, before you commit to this it's important that you are fully aware of what to expect and what risks may be involved. The General Dental Council have put together a series of guidelines for people thinking of travelling abroad for their dental treatments.
Some of the questions you may want to ask are:
Who will be carrying out my treatment and what qualifications do they have?
Will the dental team speak English? If not, will you provide a translator on the day of the procedure?
Do you have any references or testimonials from previous patients?
How many times have you carried out the procedure I am having? What are the rates of success, complication,
readmission and infection?
Are you regulated by a professional body and do you have to be registered with them?
Is the work guaranteed for a certain period of time?
What aftercare do you provide?
What happens if I am unhappy with the results? Who pays for the extra flights, hotel and remedial work?
If there are complications and I need further treatment, is this included in the initial cost?
Do you have insurance to cover this procedure?
Do you have a complaints system in place? Can I see a copy of it?
Who can I contact for advice after the treatment?
Travelling abroad for dental implants can be relatively risky compared with seeing a dentist in the UK. Dental implants often require a lengthy stage of preplanning and post placement care, this can become very difficult if you have to travel abroad to see the dentist each time.
Whilst implants have a very high success rate they can occasionally be problems, again, this is much easier to remedy if the implants are placed in the United Kingdom.
How much are dental implants abroad
We've looked at the prices of dental implants abroad from a few different countries including the most popular ones Spain, Poland, India & Turkey. Implants seem to be around £500 per implant, when compared to the cost of dental implant in the UK this can often seen extremely cheap.
We would however suggest you exercise extreme caution, one of the factors which affect the cost of the implant is the dental implant components themselves. There are well known and established dental implant component manufacturers such as Straumann, NobelBiocare and ITI to name just a few. The amount of research and historical product development that has gone into these implants is extensive and this comes with a cost.
Dental implants are manufactured to extreme tolerances of fractions of a millimetre, whilst it is possible to mimic the recognised brands above, it's not possible to do this making them cheaper and maintaining the quality.
Many dental implant systems abroad use unrecognised or copy implant systems, this can mean that when you come back to UK if there is any problem that the dentist in the UK may not be able to help at all with any form of treatment on the dental implant.
If these copy system companies have also gone out of business then it can make replacing the implant or indeed general maintenance virtually impossible.
Our advice is always to stick with recognised implant companies and ensure you have certificates to prove that the dental implant components used are genuine.
Is it safe to have dental implants abroad
One of the ways you may be able to judge this is to compare dental treatments abroad with those undertaken in the UK, particularly the regulatory framework in UK. UK dentists must comply with and/or are regulated by:
Decontamination in primary care dental practices (HTM 0105) – This is a health technical memorandum and audit tool to help with decontaminating reusable instruments in primary care dental practices.
The Care Quality Commission – The independent regulator of health and social care in England.

Treating people with respect and involving them in their care.
Providing care, treatment and support the needs people needs.
Caring for people safely and protecting them from harm.
Staffing.
Quality and suitability of management.

The General Dental Council – The GDC regulates dental professionals in the UK, maintaining standards for the benefit of patients. The GDC will investigate any complaints made to them about dental professionals in the UK.
This all means that your safety in the UK has a considerable amount of backing, support and regulation… You are strongly advised to check the same is true from any dental treatment you choose to have abroad.